Hi SweetMeats!
Book are running out and when they are gone they are gonefoever...You'll only get this GOOD Price From Me Only! Its ready for you its GORGEOUS and WEIGHS 16 Lbs! Its gotten INTERNATIONAL acclaim so Get yours while they last! I only have a few left...

A Must Have! Acquire this wonderful piece of Nasty Erotic Art form Me! It is dedicated to all My Fans with Loving, Lusting Nastiness
To Order Your Signed Copy CLICK HERE
xoxoxo
Vanessa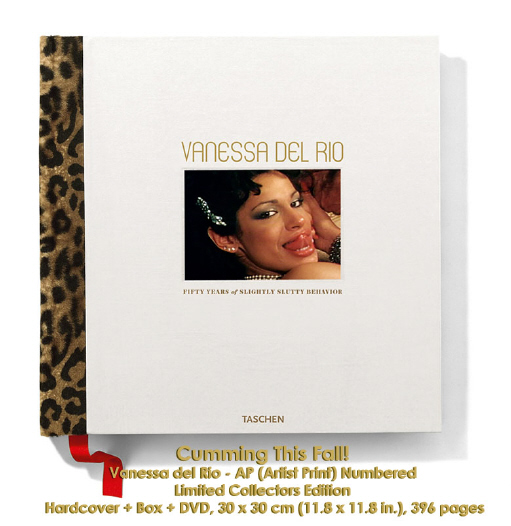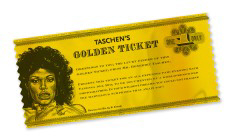 * Bonus for one lucky reader:

One of the 1,500 copies contains a Golden Ticket good for an all-expenses paid evening
with Vanessa, to be documented by a world famous photographer!!
*Each Book is Shrink-wrapped with a NUMBERED Seal to
Preserve Integrity of Golden Ticket
Vanessa Del Rio: Fifty Years of Slightly Slutty Behavior:
Editions: ISBN 978-3-8228-2230-2 (08/2007: German, French, English)
Limited Collector's Edition 1300 Copies NUMBERED 201 - 1500
List Prices: USD $400.00 | GBP 300.00 | EUR 350.00 | JPY 50000.00
Collectors Edition With Robert Crumb Lithograph
(Taschen Artists Edition) Hardcover 200 Copies NUMBERED 1 - 200
List Price: $1,000.00 | GBP 600.00 | EUR 750.00 | JPY 120000.00
That's 'Slut' with a capital 'S'

Could HERstory get more oral? By Dian Hanson and Vanessa del Rio
Back in 1974, the sexual revolution was in full swing and the adult entertainment business was on the verge of becoming Big Business. Deep Throat had created America's first porn star in 1972, but by 1974 Linda Lovelace was already retired and the industry was seeking the next big thing. Vanessa del Rio should have been that thing, except in 1974 there were no ethnic sex stars. Undeterred, Vanessa took any role they'd give her, because, amazingly, she was there for the sex more than the money. Fans, awed by her ferocious onscreen sexuality, made her a top box office draw and America's first Latina star. Retired since 1986, Vanessa del Rio remains a sexual icon who cuts across all ethnic boundaries.
What her fans don't know is that her real life was, and is,
as wild as anything she did on film.
In this sumptuous over-sized volume, TASCHEN celebrates a remarkably candid, confident and exuberantly sexual woman. Presented through Vanessa's own archive, in her own words, is a life at once shocking, titillating, amusing, and inspiring. And because paper and ink can't do justice to a personality this big, an original 140 minute DVD documentary is included. If you aren't already convinced, this book will end all doubt that there could ever be another woman like Vanessa del Rio.
The co-author: Dian Hanson is TASCHEN's Sexy Book editor and long time friend of Vanessa del Rio's. As a 25-year veteran of men's magazine publishing she edited titles including Puritan, Oui, Outlaw Biker, Juggs, Big Butt, and Leg Show. Her most recent books for TASCHEN include Dian Hanson's History of Men's Magazines six volume set, The Big Book of Breasts, Richard Kern's Action and The New Erotic Photography.
"She is a person I dreamed about having sex with. She should go in the hall of fame for best sex scenes in the '80s." - Snoop Dogg
"Her whole body and whole gestalt is so amazing. She was the real thing and not being seen, not being recognized.
A true Amazon." -Robert Crumb
"She is a role model for every woman who wants to express and enjoy her sexuality." -Foxy Brow
CLICK HERE Order Your Signed Copy
Shhhhhhh Reading Room ~~ Intro & SAMPLE CHAPTERS!:

That's 'Slut' with a capital 'S' ...

Could HerStory get more oral? By Dian Hanson and Vanessa del Rio
Even now, when there are no film sets to get to, no photo shoots waiting, Vanessa del Rio wakes up early. She says she's afraid of missing something - a sliver of life, some passing pleasure. Vanessa proudly admits pleasure rules her life, from music and massage to food, dancing, drink, recreational nudism and recreational sex - especially recreational sex. The 10-dollar word for her is ebullient, meaning "full of cheerful excitement or enthusiasm." She's always laughing, at herself and the absurdity of the world and her place in it. She laughs telling jaw-dropping stories about her career as an erotic pioneer. She laughs about gunfights and obscenity busts and finding herself on the floor of a burlesque stage before 500 screaming fans with a busted knee and no way to get up. She can even laugh about growing up lonely and the chances of a slut aging gracefully, because at 54 she's alive and thriving, and still eager for each new day. Profoundly female, Vanessa is not girlish. There's something bullish in her ebullience, a strapping and robust athleticism. Within this physical frame, her consuming sexuality feels as natural as perspiration after a hard workout. Her body is more Neolithically lush than in youth: breasts heavier, thighs thicker, buttocks rounder. Her skin is still the same smooth caramel, her thick mane still blue-black, her lips as outrageous as ever. Vanessa proudly possesses the world's most carnal mouth; even in baby pictures her lips seem slightly obscene. Never a parsimonious virgin's pucker for Vanessa, no lipless spinster's slit. That glorious orifice was always generous to a fault, cut wide and deep to accommodate her legendary appetite for all things oral. And I mean all; what comes out is just as astonishing as what's gone in.

In casual conversation she'll say, "Did I mention one of my fantasies is going into a prison and attacking the prisoners, just sucking the testosterone out of them like a queen bee with her drones?" followed by her huge hearty laugh. Or "Did I tell you about the time I was supposed to be a bridesmaid at my friend's Valentine's Day wedding, when she was marrying a man who was in prison for rape, but I couldn't do it because I was in prison too?" Then she'll segue into some technical problem with her highly successful website. I yell, "Don't say those things unless the tape recorder's on!" and she just laughs and says, "Oh, that's nothing. I've got better stuff than that."

I've learned not to argue. Controlling her is out of the question. Vanessa is ever uncensored, with all topics given the same conversational weight. When you read later in this book why she was the one to perform the most outrageous acts in '70s sex films, consider that the conversation occurred in a crowded restaurant, with Vanessa's voice at its usual booming pitch. Sure, there's some exhibitionism in play when one says "ass eating" in public, but with Vanessa it's mostly that irrepressible ebullience. And why shouldn't she be cheerfully enthusiastic? Vanessa has beaten the system. She rose out of poverty, took life on her own terms, never apologized, never expressed regret, only briefly renounced her hedonistic lifestyle, and by staying true to the path she created has become a celebrated cultural icon.
As I was finishing this introduction Vanessa called in the grip of a fresh passion. She'd watched another porn star documentary on television and heard yet another star describe herself as a businesswoman and indignantly deny she was a slut.

"Dian, I'm telling people I'm a Slut with a capital S!" she said. "Why does everyone deny being a slut? Why is it acceptable for a woman to have sex for money and not acceptable to do it because she loves it, or for money and because she loves it? I will never deny I love sex! Are they going to crucify me when they read this book because I'm proud to be a slut? We have to make people understand how society has this all backwards!" What better place to begin our trip into the life and mind of the One True Porn Star?

CLICK HERE To Order Your Signed Copy